How many of you have watched or heard of a South Korean celebrity-variety show titled "We Got Married"? The MBC channel first broadcasted the program in 2008 where they selected and paired Korean celebrities into one program to show what life is like if they were married. They were given missions every week to complete "as married couple" and in between were interviews about their thoughts and feelings about the other (usually the impacts of each mission).
I brought this up because I'm itching to share this show to everyone. As of this writing, I read an online article about the show and MBC announced they will cancel its broadcasting. I'm deeply sadden by the news (due to recent labor strike in Korea}. Much I would like to talk about the country's crisis (and to think my very own Mother Land also faces many crises herself), I would like to get back and remember the episodes and the couples who had been part of the program and I LOVE every minute of it. Now in its Season 3, I'll limit myself only to the first season in which I fully knew well. Sort of.
우리 결혼했어요
Uri Gyeolhon Haesseoyo or We Got Married
Before I begin, allow me to impart the story behind how I came about to this show. You would usually hear about new TV shows from your close friends or from media promotions and recommended you to try to watch them. Mine was quite far from that and I only made the decision to watch WGM because of one person by the name of Alex Chu. Known as "Alex" in the music industry and he is the male vocalist of Clazziquai Project, a trio band whose music combines the genres including electronic music, acid jazz and house. They are known for their songs like "Be My Love" and "She Is", which were featured on the Korean drama My Lovely Samsoon. I was completely swooned the first time I heard Alex's voice when he sang "She Is" and his rendition of Loveholic's "Flowerpot" (now part in his first solo album) even until now. Then I searched thoroughly about Alex's several appearances on television, and especially the "Flowerpot" song (you really can't blame the fan girl in me).
Alex and the "Flowerpot" song were essentials to this show. As you might guessed it already, Alex was among the Korean celebrities selected by the network and paired with an actress. The show kicked off as a special pilot episode for the 2008 Lunar New Year Special and his "wife" that time was Jang Yoon Jeong (a semi-trot singer). By the beginning of first episode for Season 1, Alex then meet his new pair and it's Shin Ae(model and actress).
Alex and Shin Ae first meeting was obviously awkward and Shin Ae was naturally a shy person. At first it was a challenge for Alex and through his natural approach to her, he was able to be close and get to know Shin Ae better in a very caring way. I must say he is such a romantic guy. He bought a lovely cake for her on their first taping day, took a picture of them together using his polaroid camera, to name a few. As the show progresses, we learned about Shin Ae's past relationship with her former boyfriend. The show hosts named them as "The Romantic Couple" because Alex is capable of turning simple events into a romantic one and made Shin Ae open her heart towards him (and for her to open herself again for love). Also on the show, you could see Alex really a man for her, truly a romanticist and both look comfortable and perfect for each other. They became the most favorite and talk-about couple and when it was about their time to end the marriage fiasco, the fans were sadden about the end of their role. For their final mission, the couple organized a fan meeting for them and said their thank you's for all their support. During the meeting, the couple sang "Flowerpot" while the program flashed their most loveable and memorable moments together and had fun games wherein the couple had to do or perform for their fans.
FYI: Alex dedicated "Flowerpot" to her when on one episode he decided to leave the show for him to start promoting his first album. It was a tearjerker moment, and Shin Ae really cried on that episode. Both really became close as they progress from each mission then suddenly it has to end. Before they depart, Alex took Shin Ae to the recording studio and filmed their last taping day together, both sang that song and then he told the sad news to her. But due to insisting public demand, the couple was back on the show after Alex finished the album promotions. For their reunion, they met and went to Namsan Tower for love padlocks, a place that was famous for couples to declare their love by writing them on padlocks, locked them together and then throw the keys away so that none of them will break their promise for each other. I was wondering who thought of that love padlocks. Alex? Now I'm smitten by him.
Alex and Shin Ae's 100th Day Wedding Photoshoot
Seo In Young ad Crown J
Solbi and Andy
Hwangbo and Kim Hyun Joong
Too many good things to tell about the Romantic Couple, let us know the other couples:
Crown J and Seo In Young, known as the Ant couple. Apparently, I really don't know the origin of that name but in one episode, Crown J mentioned dyeing his hair with red color like Hanamichi Sakuragi's of Slam Dunk (he did mentioned this in the show). He was coerced by his wife to dye his hair the same color as hers. Then the show hosts thought he looks like an ant when it was dyed. The couple was mostly remembered by all for their constant bickering with each other and how they amazingly become cool right after a small argument. They showcase close to that of a real couple, i.e. nagging and then forgiving each other.
Andy (from a boy band Shinhwa) and Solbi (from a mixed group Typhoon) is another couple. Solbi revealed that she is a fan of Shinhwa, Andy thought she had a crush on one of the members of his group. Actually, Solbi had a crush on Andy in which he later learned when that episode was aired. On one episode, Shinhwa celebrated their 10th year anniversary and Solbi was at the audience area, watching their show. She waited for Andy to show her a signal expressing his love for her. Indeed, while he was performing, he made an effort to insert on their dance by raising his arms and hands pointing over his head that forms like a heart sign for Solbi.
The other pair, Jung Hyung Don and Saori, depicts a life of a carefree-attitude husband and a young wife. You could sense Jung Hyung Don acted like he was still a bachelor even though being married was just for a show. The couple did not last long as Saori decided to end their "marriage". Later on, the couple was replaced by Kim Hyun Joong of SS501 & Hwangbo, a leader and rapper of former girl group Chakra. They were known as the Lettuce Couple as Hyun Joong was so fond of using the word "lettuce" or "sangchu" in many episode. Both resembled the current fad of older-woman-married-a-guy-younger-than-her-age sort of a couple. For a better phrase, a mature wife and a kid groom. They are one of my favorite couples for the Season 1 as I really enjoyed watching them both doing some chores and how Hwangbo handles his man. As the kid groom, Hyun Joong really showed his competitive side but also very supportive to his "Hwang Buin" though at certain point he can be shy. I think Hwangbo find it so cute about this side of his character. One episode when the Lettuce Couple went on fishing and the kid groom could not catch a single fish, Hwangbo knew then that he was sad and quite depress because he didn't have something to brag about to her.
(Left to right: Crown J, Seo In Young, Alex, Shin Ae, Jo Yeo Jeong in front, Lee Hwi Jae at the back, Solbi, Andy, Hwangbo and Kim Hyun Joong)
Opps! I should stop now before I could spill everything in here. By the way, the missions given to them are not too strict nor too inappropriate for the couples to do. They are all reasonable, I can guarantee that. The producers allow them to think creatively on how they do about the missions and give us a heart-warming and light-feeling episode week after week. As for me, the show gave us a hint about what is it like the life of the married celebrities. It is not far different from real situations, celebrities are humans after all despite their status. Though the Romantic Couple was almost like depitced in a romantic-comedy movies, it could happen in real life.
Why do I only share about the Season 1? What about the seasons 2 and 3? The four pairings that I mentioned above were part of the original couples and many pairings had been added at the latter episodes. Just imagine that by the next season, MBC will present a new set of couples for the show and that was like crazy. I have my personal bets and favorites. But honestly, I didn't finished the rest of the seasons when the Romantic Couple left the show even though I have an eye for Nichkhun (paired with Victoria of f(x)) and Jo Kwon (paired with Son Ga-In of Brown Eyed Girls) from boy groups 2PM and 2AM respectively on their appearance in season 2. I'm still head over heels for the Romantic Couple. For me, nothing compares them with others. Probably I don't want the thought of them fade away with a fresh new ones. They forever buried in my mind and heart, knowing that Alex and Shin Ae were never meant to be together after WGM. By the way, Shin Ae married her non-showbiz boyfriend and already gave birth for their first born child last January. Alex on the other hand continued his music career and busied himself with radio shows, acting and his latest 2nd solo album.
Time to wrap everything up. The show was totally very inspiring and well-crafted. I'm glad I was able to witness the nice things going on the show, though we were limited by the PD's selection on scenes, be it sweet or not. You should try watching "We Got Married" one of these days and if you have already watched it before this post, care to share with us who is your favorite couple?
Top of the lock: "Wishing for laughter and happiness always..."
Bottom of the lock: "Alex and... Shin Ae...2008.5.26"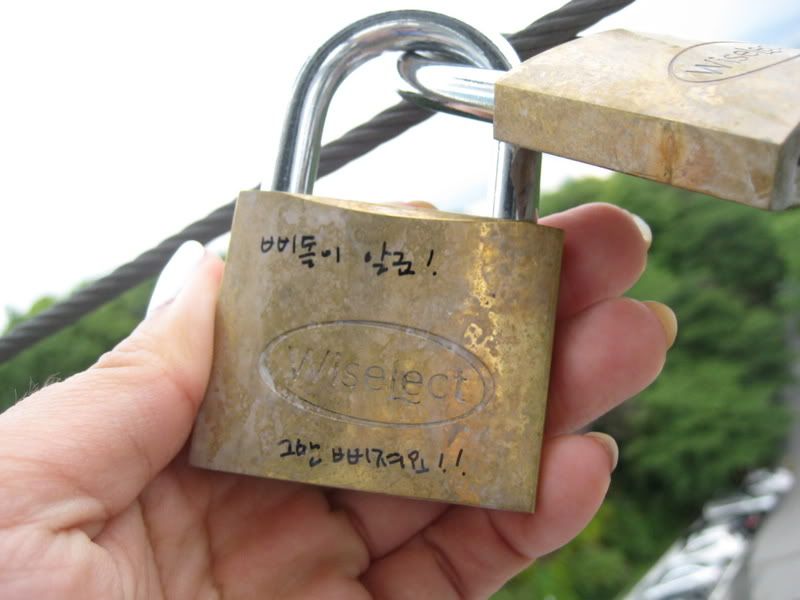 Top of the lock: "Slightly Slanted Young Man, Al"
Bottom of the lock: "Stop being peevish."
Anyway, til my next K-variety post!